Along with spring, fresh flowers, and sun, Easter is coming! Easter is the most important annual religious feast in the Christian liturgical year, but there is more to this special time that can be fun for everyone! Keep reading for Wikia ideas on Easter and how to spend your time during this holiday so that you can have more fun than this dog in an Easter basket!

Keep It Traditional
Learn more about Easter, the religious holiday, and how to properly celebrate on the
Religion Wiki
! Did you know that Easter celebrates the resurrection of Jesus and that, traditionally, the Easter season lasted for the forty days from Easter Day until Ascension Day but now officially lasts for the fifty days until Pentecost?
Easter Eats
If you're hankering for something sweet, Easter is the perfect time to break out chocolate eggs or even make your own! How about
Peanut Butter Easter Eggs
or some
Eggsquisite Easter Baskets
? The
Recipes Wiki
has recipes for these and many more delicious treats! After making these, you could always go and hide them for the kids since Easter egg hunts are always awesome!
Get Crafty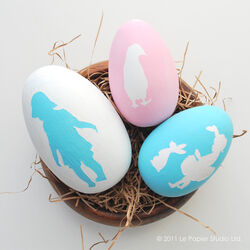 These
silhouette stenciled eggs
look pretty cool, right? You could easily do it yourself at home! There are plenty more awesome Easter DIY projects over at the
Easy Crafts Wiki
that are perfect for an Easter party with friends and family. Many of these projects are fun for kids too!
Easter-themed Entertainment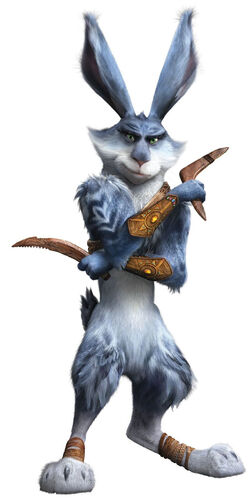 A less traditional way to celebrate the holiday is just have an Easter-themed day of entertainment and games! There are plenty of movies and video games that you can stretch a connection to the holiday with, and they are just waiting for you! Example:
E. Aster Bunnymund
(featured above) is the guardian of Easter in the movie
Rise of the Guardians
so it's totally an Easter related movie! An Easter related video game could be
Angry Birds
! The game has an
Extreme Spring
edition that is...kind of Eastery? If you're a fan of watching obscure movies or shows, check out the
Other Holiday Specials Wiki
for some good Easter specials! The
Easter category
features good ones from Charlie Brown, Bugs Bunny, and even the Berenstein Bears!

Now that we have given you some great ideas on how to celebrate your easter, go forth and do some of them! We would love to see how you celebrate, so share in the comments below!
What is your favorite part of Easter?
---
---
Community content is available under
CC-BY-SA
unless otherwise noted.