Home to thousands of Wikia's lifestyle-related wikis that anyone can edit. If you're just starting out with wikis, check out our New to Wikis Section. Explore to your heart's content! Which wiki will you choose today?
What was your favorite meme of 2012?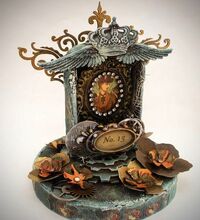 Steampunk is a subgenre of fiction and an active subculture that highlights advanced technology in the altered past. Explore fictional and real steampunk projects and inventions on the Steampunk Crafts wiki! This wiki is a resource for Steampunk artwork, crafts, jewelry, Steampunk couture, Victorian-inspired clothing and accessories, goggles, repurposed or modded projects and more.




Along with spring, fresh flowers, and sun, Easter is coming! Easter is the most important annual religious feast in the Christian liturgical year, but there is more to this special time that can be f…

Read more >


สายฝน ฟ้ามัว หรือ สายฝน เป็นตัวละครนักเรียนในโรงเรียนขุนศึกษาวิทยาคม

ระดับชั้นมัธยมศึกษาตอนต้นปีที่๓ มีลักษณะเด่นคือ มักจะใสผ้าคาดผมสีฟ้าหรือหูฟังสีฟ้าไว้(เกิบจะ)ตลอดเวลา บางครั้งจะใส่สร้อยคอสีเขียวมร…

Read more >

Loading RSS data...
Additional lifestyle wikia are listed below.
---
white (none) < 11 articles     |     bronze < 51 articles     |     silver > 50 articles     |     gold > 100 articles
yellow star > 250 articles     |     orange star > 1,000 articles     |     red star > 5,000 articles
Community content is available under
CC-BY-SA
unless otherwise noted.