Home Wiki

his is an interactive site where people can contribute their knowledge about home care, people in our homes, maintenance, improvements, furnishings and other related topics.

Number of Articles

over 660

Wiki Type(s)
Family,Places
The Home wikia is about our homes -- houses, apartments, condos and other places where we live. It's got information about decorating styles, maintenance and more. Many of the 500 articles are fairly short and provide only basic definitions and information. We'd like to have more helpful hints, how to and comparative, cross-cultural information.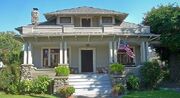 Some sample articles:

Active wiki
This wiki is active. It has all the basics that a wiki needs. It has good content, but still has room to grow. Would you like to help?
It has the basics - core content, a significant number of pages, active contributors and at least one administrator. But it still has an area or two of significant weakness - too many stubs, uncategorized pages, only one active admin., etc.
Community content is available under
CC-BY-SA
unless otherwise noted.